A large video wall inside your business speaks volumes. It's a bold statement piece that alters the entire look and feel of a corporate building or customer-facing location.

Located in the lobby, a video wall creates a memorable moment for every client, guest or consumer that sets foot inside. A video wall in a boardroom or meeting area becomes the definitive centerpiece, elevating in-person and virtual conferences with remarkable visuals while allowing clients to communicate with hybrid workforces in profound ways.
Samsung's video walls have taken the next step in transforming the display landscape with The Wall All-in-One. Because of its advanced visual technology and ease of installation, leaders in the retail, automotive, federal, hospitality, corporate and healthcare industries can deliver a stunning, high-impact visual experience to everyone.
Built better for outstanding results
The Wall All-in-One, along with Samsung's other Wall products , are part of a new generation of display technology that offers unparalleled visuals and design, giving any space an awe-inspiring edge.
The majority of direct-view LED video walls use a manufacturing process that significantly limits how many tiny LED lights can be packed and soldered into each square foot. The result is a line of screens that look great from a distance, but their visual quality quickly degrades as viewers come closer and suddenly see each individual LED light chip — and the gaps between them. Thanks to The Wall's microLED design, it delivers visuals that always look crisp, even up close, alongside color reproduction and contrast levels that rival premium LCDs.
How to plan and deploy direct view LED signage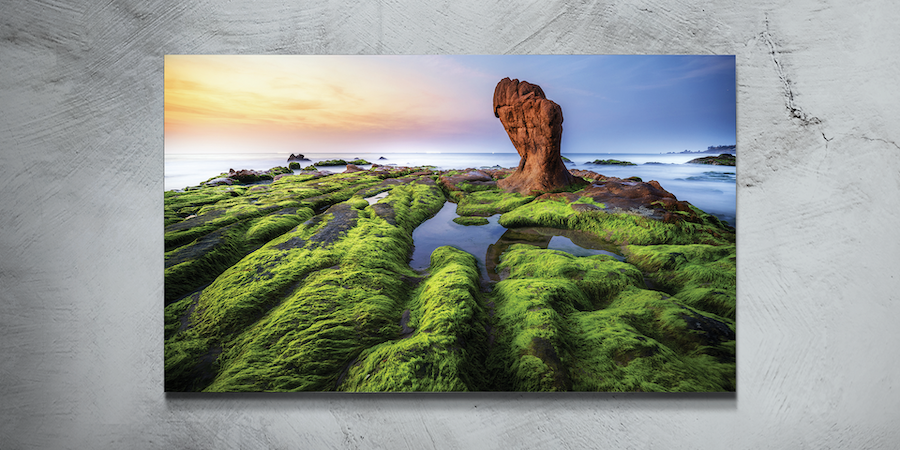 WHITE PAPER
Everything you need to know about choosing your LED displays for optimal viewing indoors and out. Download Now
Unlike LCD video walls, though, The Wall doesn't show any seams where monitor frames — or bezels — are conjoined. On LCD video walls, super narrow bezels have minimized those grid lines, but they're still noticeable and may distract viewers from brand messaging. The Wall has changed that viewing disruption, creating a truly seamless screen that's redefining modern boardroom technology, home viewing experiences and more.
Putting The Wall to use
Narrow-pitch LED video walls are being widely adopted by digital signage solution providers, integrators and media companies alike.
In corporate offices, The Wall All-in-One is the centerpiece of the executive boardrooms, personal offices or the lobby. Integrated software, including Cisco, Logitech Cam and Google Duo, supports seamless, hassle-free meetings with those in-office and remote.
Within the retail industry, stores that sell electronics, apparel or luxury goods are putting up branding and experiential walls as the signature piece of their store design. The Wall sets the tone for the store, a tone that's easy to change as needed.
Hospitality and entertainment venues, like hotels, casinos and cruise ships, are replacing LCD video walls with direct-view LED — which doesn't require rear-projection cubes — motivated by direct-view LED's "wow factor" and design flexibility.
Retail designers love being able to change a store's look and mood at a moment's notice, as do designers of spacious physical areas like building lobbies, automotive design centers and hospitals. Where there were once water features and large sculptural pieces, now there are huge, dynamic video walls that tell stories, relate information or convey a certain mood.
Out-of-home media companies led the transition to LED as they began converting their print highway billboards to digital formats. As LED costs dropped and the quality of LEDs improved with notably finer pixel pitches that allow for closer viewing, everything from cruise ships and casinos to government command and control centers and federal offices are adopting fine-pitch LED displays.
Installation is also easier than ever. Thanks to The Wall All-in-One's preassembled mounting clips and docking plates, businesses can make a significant impact with minimal lift. The control box and speakers are built into the design, too, eliminating any need to purchase and configure external devices. In just two hours, any business can have a statement piece that portrays an image of leadership and innovation to customers and clients.
While The Wall All-in-One simplifies decision-making with a set number of resolution and size options to choose from, a full customization is still possible with The Wall for Business. A hospital with a curved wall or an L-shaped command and control center can have an LED video wall customized to their particular space and size limitations. If you're building a video wall in a retail store, you can work around where products are placed and install The Wall in such a way that maximizes available retail space.
Depending on each organization's internal operational staff, Samsung provides various levels of white-glove service and support to reduce on-site calibration time and achieve a speedier deployment.
The microLED difference
Samsung's microLED manufacturing process mass-transfers micrometer-scale LEDs onto flat modules that fit together like tiles, seamlessly linked together to create a uniform visual canvas — which you can scale to the best dimensions for your space.
For greater color accuracy, the base of The Wall's tiles is true black (seen in the microscopic gaps between the LEDs), generating maximum contrast and amplifying the finest details. And with Black Seal technology, The Wall resists ambient light, which is often the culprit of reflections that make LED canvases look more gray than black.
Through its advanced picture-quality engine and Ultra Chroma Technology, The Wall delivers High Dynamic Range (HDR) 10+ visuals, with optimized brights and a full range of realistic shadows, from shades of gray to deep blacks. Narrower wavelengths produce RGB colors two times purer than conventional LEDs. This becomes a crucial technology for those in federal command and control centers, who rely on image accuracy to make mission-critical decisions.
In terms of manufacturing specifications, The Wall All-in-One has a 0.84-millimeter pixel pitch. Some conventionally manufactured LED displays have the same pixel pitch or slightly finer, but most surface-mounted device (SMD) fine-pitch LED cabinets — the tiled screens that form video walls — contain pixels counted by the hundreds. In a similar cabinet, The Wall offers thousands of pixels, narrowing the display to the optimal pixel pitch. The real magic here is in how little space the microscopic pixels take up on the LED module. This allows the pixels to be surrounded by a deep black background, producing a significantly stronger contrast that's ideal for modern boardrooms and lobbies.
In practical terms, The Wall's microLED design delivers up to 8K resolution simply by arranging just three cabinets in a row. With SMD LED displays, it would typically take a dozen or more cabinets tiled horizontally to realize 8K resolution — requiring an array that fills a whole wall.
Built to last
The brittle nature of SMD LED display modules has tempered the adoption of LED video walls. The tiny LED chips are easily damaged and expensive to repair. As a result, these walls are often set far back or way up, out of reach of physical threats like strollers, shopping carts, luggage or curious fingers.
Samsung's engineering exemplifies a new generation of direct-view LED displays that can withstand bumps from customers or scratches from a stray bell cart in a hotel lobby. The Wall is resistant to water, dust and static shock.
Investing in The Wall All-in-One isn't short-term. Samsung designed the hardware to last, so it can be part of your business environment for years to come.
Deciding to install The Wall is no small investment, but it comes with a big payoff — that's clear from every angle. To make sure you do it right, get your free introductory guide to digital signage project planning in your organizational space.
(2022, Jun 27). Samsung for Business. Retrieved from https://insights.samsung.com/2022/06/27/the-wall-all-in-one-changing-how-businesses-use-led/